News
County mayor of Lianjiang County, Fujian Province visits the Phase III desalination plant in Nangan, Matsu.
Year-end party of G&F ENVIRONMENTAL TECHNOLOGY INC. in 2018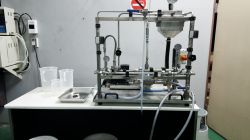 Inopor Ceramic Membrane and UF pilot setup completed
Dismantling and Maintenance training of Danfoss equipment
All factory personnel actively participated in the implementation of zero disasters and safety guarantees.
Arrange staff to go to South Korea Danfoss company for PUMP dismantling and maintenance training.
Rauschert, a German manufacturer of ceramic membranes, came to visit.
Industrial Wastewater Recycling Technology Applied Trends
Speech by Mr. Wu from G&F
General Manager Wang Wenshan goes to Hongguang University to give a speech